To define a Business Process, you go to [App Setting] menu. The flow of the business is defined by placing icons onto a Flow Chart. Created Business Process Definition is called "Process Model", it will work as a Workflow system immediately by clicking on the 'Release' button.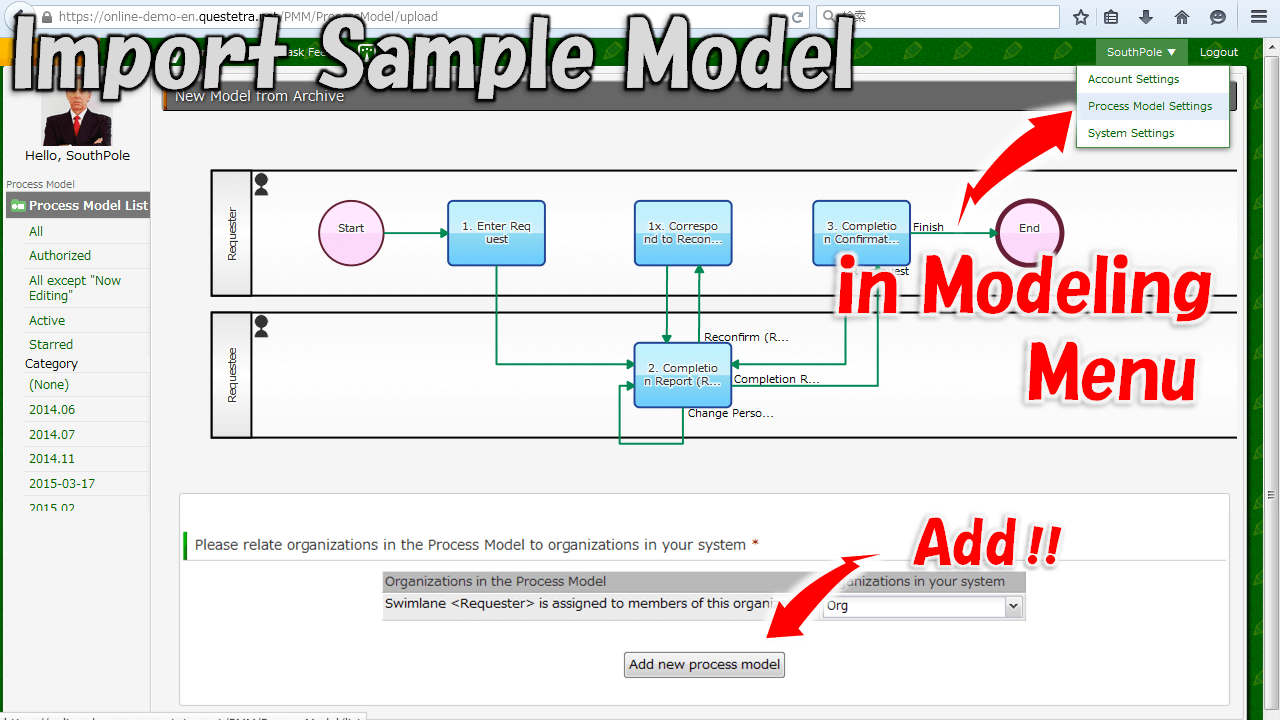 1. To create an App
1. Drawing of Flow Chart

Design a flow of business by placing icons, and link them with arrows

2. Setting of Data Items

Define the [name] and the [type] of input items that are to be handed on , one by one

3. Setting of Permission

Set each data item to be read or to be input, in each step

4. Setting of Split

Set Splitting rule to each Split point

5. Enumerating Personnel to be Offered

Enumerating nominees who are the Persons to be Offered to operate each step (M209)
All the setting is done on the browser (Flash Player / constant connection is required)
There will be no session timeout due to non-operation (There is possibility of session termination due to the change in the communication condition)
Simultaneous editing by multiple people is not supported (Will be overwritten with the latest editing)
Assignment of Users or Role information are managed in the whole system (Cannot Set by individual App)
More than 500 samples of [Apps] have been published in the sample archive (extention : .qar)
R2010: List of Task Icons (BPMN)
R2012: Limits on the Business Process Definition
2. Running as a Workflow System
a. Activate

To build a new Workflow system or to update version, click on the [Release developing Version] button

b. Suspend

To disable the Start new Process action, click on the [▼App] button, then select [Suspend]

c. Restart

To make a suspended Process Model to allow to Start new Process, click on the [▼App] button, then select [Restart]
A Process Model containing Definition Error cannot be Released
Version number of a Process Model will be given at each time of Releasing
You can leave version note when the Process Model is Released
Each Started Process continues to flow according to the "definition at the Starting", even the version was updated during running
The option of terminating all the Processes in progress upon [Suspend] is also available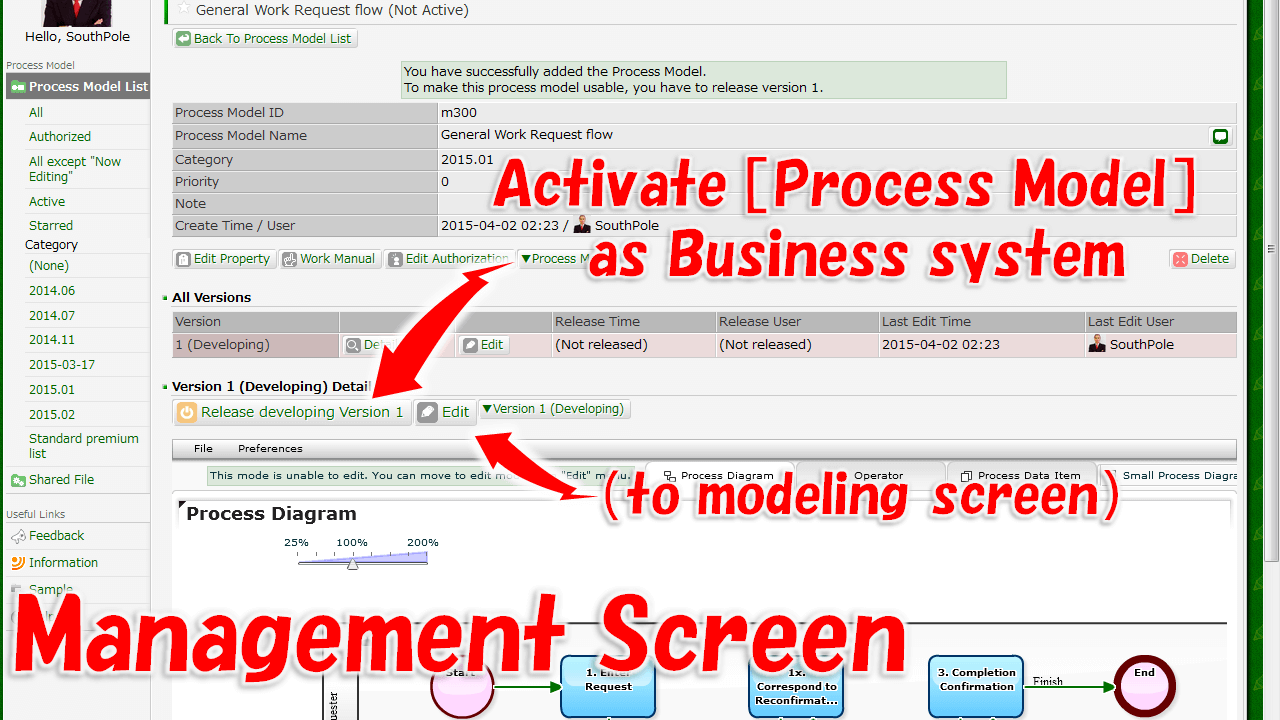 3. Updating specifications of workflow system
1. Modification on App settings

Update the Split setting or setting of underwriting candidate, etc.

2. Save and Release

Release the new version
Once you create a new application and release it, it will run as "version 1"
The setting modification after the initial release will be automatically saved as "version 2". (It does not affect running App)
In order to update the App to "version 2", "Release" version 2 again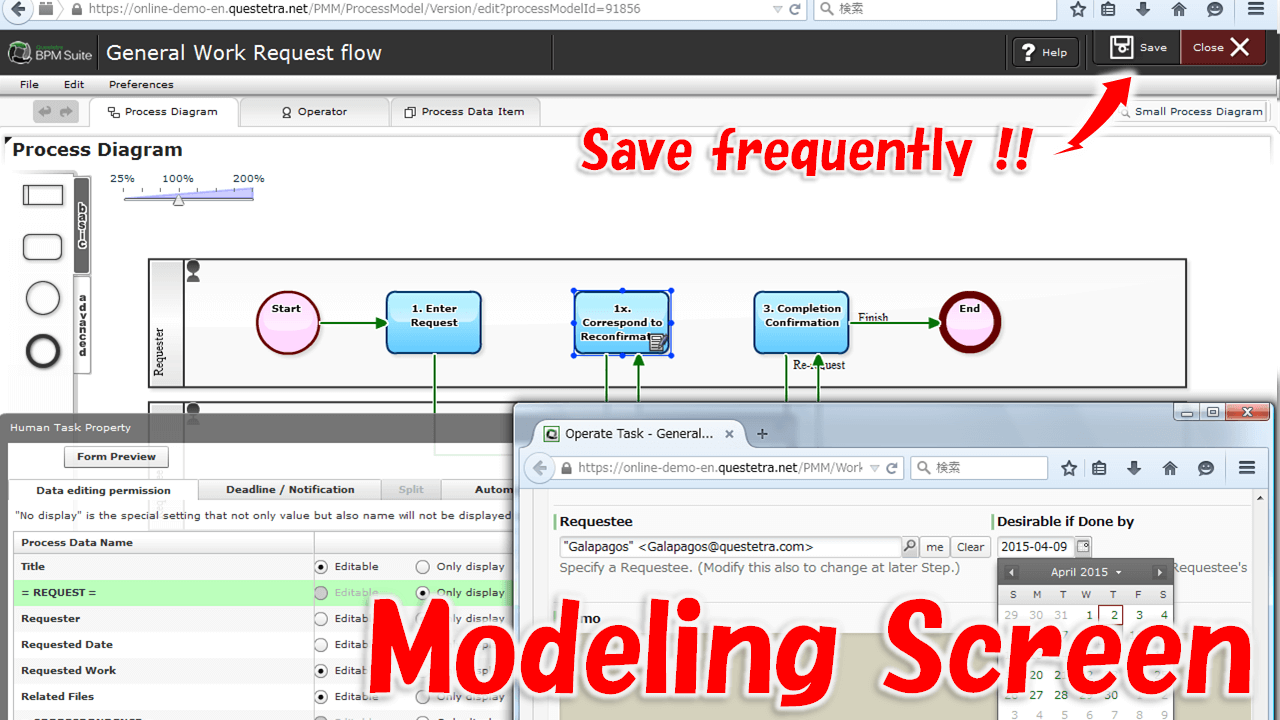 ---
Z. More Info: Operational Test as Workflow System
a. Debug execution

Conduct [Debug execution] on Developing version of Process Model, by flowing an Issue to check its operation
You will be able to flow an Issue on the Developing version, even without [Releasing] it
You can select arbitrary [First Tasks] which is connected to [Start event]
It is also possible to operate all of the Steps by yourself (Option of "Allocate all Tasks to me")
You can select a [Profile] If you are using the [Variables] in the Process Model Definition
Z. More Info: Reverting a [App] to Previous Version
a. Duplicate

[Copy] the previous version you want to go back, and Release it as another Process Model
Only the Definition information will be duplicated (Process data (Business record) will not be duplicated!)
If you need to take over the business data, you will need to edit and to update the current version manually
Z. More Info: Deleting [App] (Cannot be recovered!)
a. Delete

[Delete] the Process Model only when you want to delete all the definition information and business data in the Process Model
Select [Suspend], if you need to refer business data as a business record
"Active" Apps cannot be deleted. To delete an Active App, [Suspend] it before [delete].
X. Workflow-Sample