If you want to automate a Processing-step, such as "Obtaining Number of characters and Hash value", you need to write Scripts using [Script Task]. If you need to use the same [Script Task] in different places, you should consider packaging the Script as a [Addon XML]. (Service-Task Addon)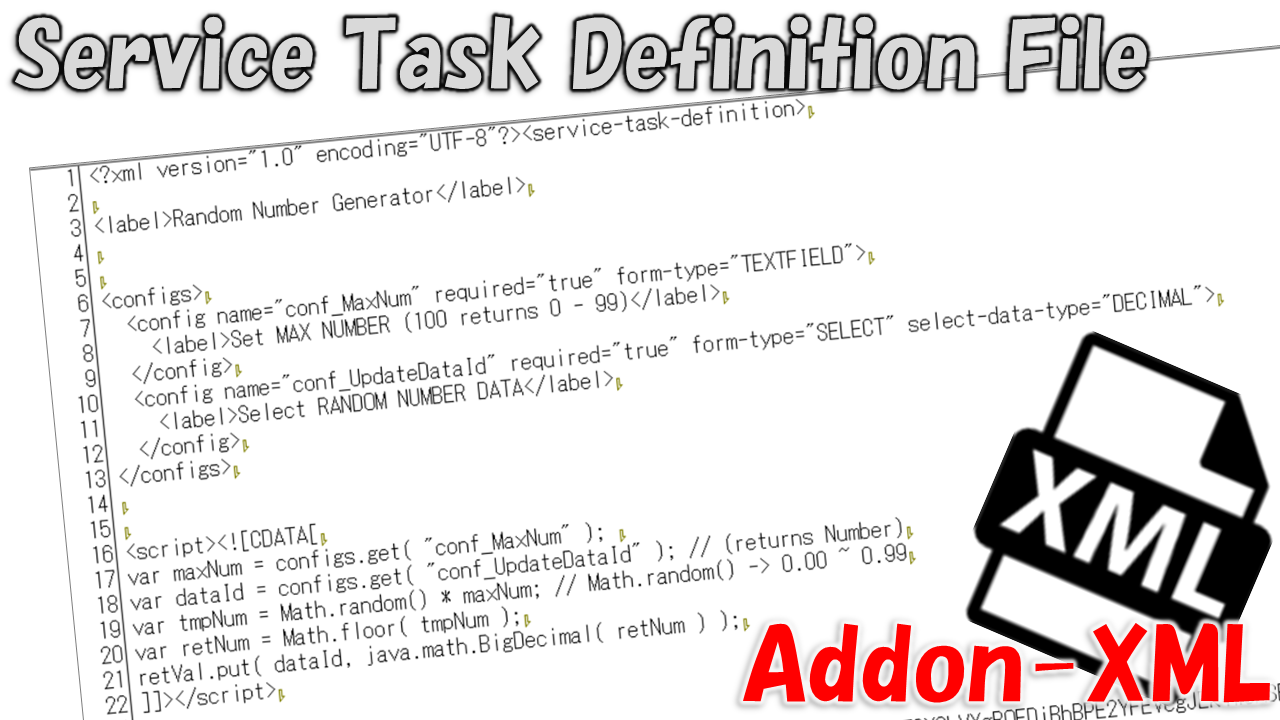 1. Overview of the Advantages of Creating Addon XML (Packaging)
a. Aspect of IT Skill Requirments (Compared with Script Task)

A Flow Designer who does not have Script knowledge should be capable of promoting the automation of the process, as well

b. Aspect of Modeling Cost (Compared with Script Task)

There will be no need to write the same Script again and again
It can be considered a responsibility in the boundary between the IT Department and the Process owner
Go to M415 for more info on how to import a preexisting [Addon XML]
Go to M416 (Bottom of this page) or to "Download" in M415 for Sample codes
2. Determine the Package Name
a. Aspect of Output of the Auto-step

e.g.: Contents of Data to be stored, Contents of Auto-operation of external system, etc.

b. Aspect of Input of the Auto-step

e.g.: Business data to be inspected, Data name in external system to retrieve, etc.
Name of Auto-step (Service Task) is defined in <label> element (64 characters max.)
Sample of a: <label>Random Number Generator</label>
Sample of b: <label>Weather Info Getter</label>
You can define an overview in <summary> element (250 characters max.)
You can define URL of help page in <help-page-url> element (250 characters max.)
3. Determine the Configuration Items Required
a. Business Data Items which are to be referred by the Step (SELECT)

e.g.: To write to Data A, To read Data B. etc.

b. Fixed Values used in the Step (TEXTFIELD, TEXTAREA)

e.g.: Maximum value: "100", Status:This Draft is on the stage of not yet approved, etc.
Enumerate Configuration Items with <config> which is a child element of <configs>
You can enumerate up to 20 configuration items <config>
R4160: Addon-XML Attributes of config element
R2290: Embedding dynamic value by EL syntax
4. Determine the Behavior of Auto-processing
1. Write a Server-side Script

Write in ECMA code available in Script Step (M230)
Knowledge of ECMAScript (JavaScript) is required
Parts of Java class are also available
Use special methods of configs.get("♦configName♦") for retrieving config
configs.get("♦configName♦"): instanceof java.lang.String
Use special methods of engine.findDataByNumber( ♦dataId♦ ) for retrieving Business Data (M230)
Use special methods of engine.setDataByNumber( ♦dataId♦, ♦value♦ ) for updating Business Data (M230)
When setting the processing engine to "Nashorn", specify <engine-type> 1 </ engine-type>
Nothing specified or <engine-type> 0 </ engine-type> is specified, it will set "Rhino" engine
<script><![CDATA[
//// == Config Retrieving ==
var dataIdA = configs.get( "conf_DataIdA" ) + "";
var dataIdB = configs.get( "conf_DataIdB" ) + "";
var dataIdC = configs.get( "conf_DataIdC" ) + "";
// convert java.lang.String → javascript string

//// == Data Retrieving ==
var workflowDataA = engine.findDataByNumber( dataIdA ) + "";
var workflowDataB = engine.findDataByNumber( dataIdB ) + "";
// convert java.lang.String → javascript string

//// == Calculating ==
var newData = workflowDataA + workflowDataB;

//// == Data Updating ==
engine.setDataByNumber( dataIdC, newData ); 
]]></script>

R2300: Functions available in Script
5. Determine the Logo for the Step (Optional)
1. Prepare an Image File

Prepare a Image file of less than 64px (JPEG, GIF, PNG only)

2. Encode to Base64

Use Converter software or web service for it
Define using the icon data<icon> element
The Logo will be displayed upon placement using Drag&Drop
6. Support Multiple Languages (Optional)
1. Add label elements with the locale attribute

Add <label> for as many languages as you need for your Workflow Designers
e.g.: Configure <label locale="ja">Generador de Numeros aleatorios</label> for Spanish Designers
en(default), ja, de, es, fr, ko, pt, zh_CN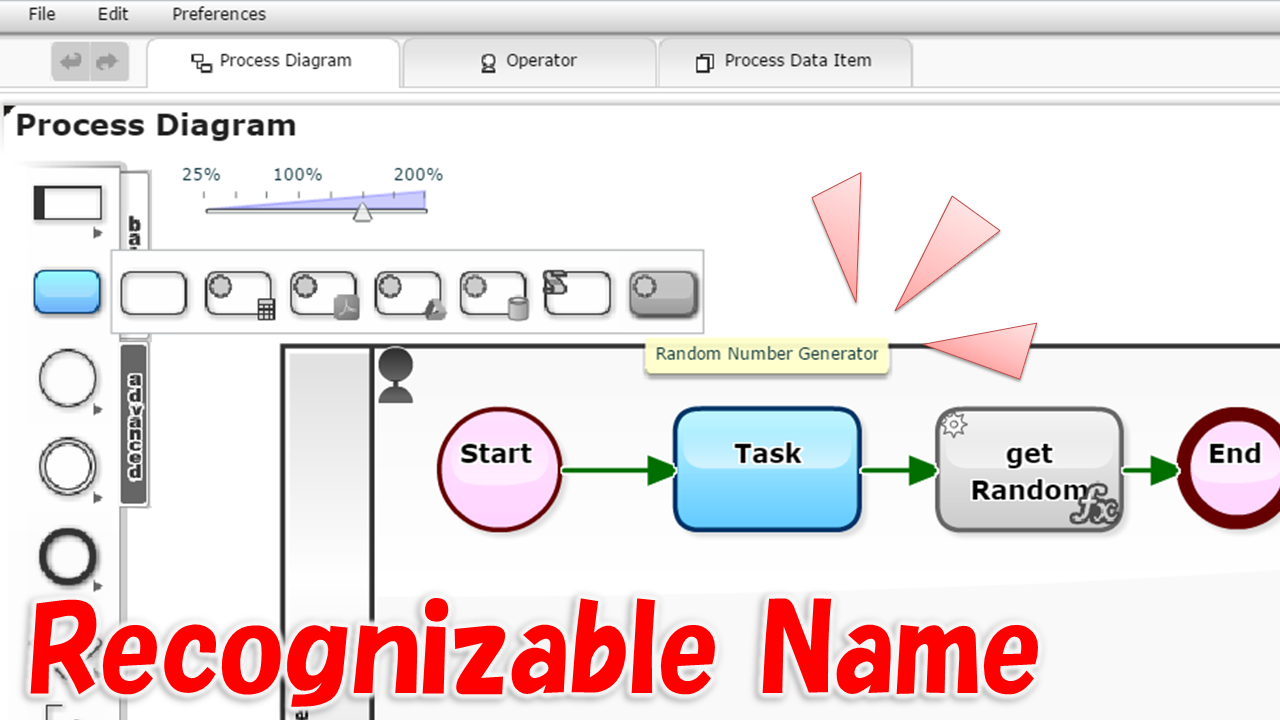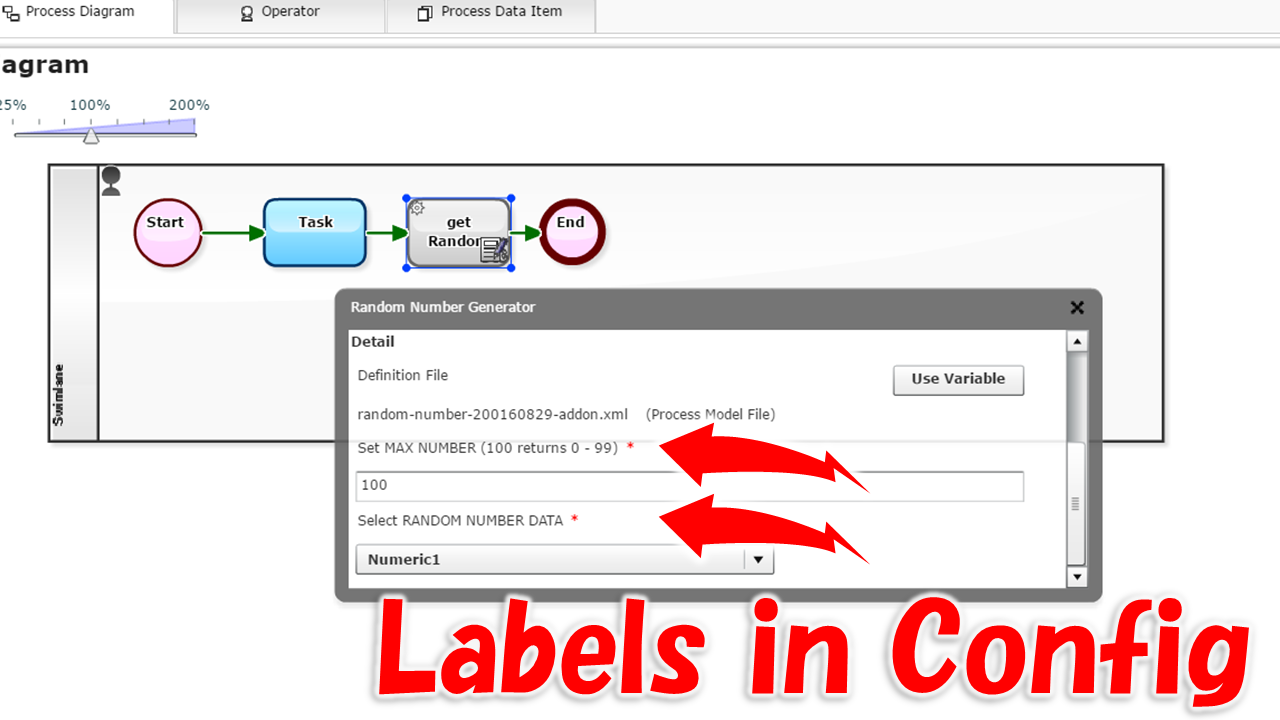 ---
A. Sample of Addon XML
Sample A1
<?xml version="1.0" encoding="UTF-8"?><service-task-definition>

<label>Random Number Generator</label>

<summary>A random number that does not exceed the config "A" (e.g.: 0 to 99) will be stored in the Data item selected in the config "B"
</summary>


<help-page-url>https://www.questetra.com/tour/m4/m415/addon-random-number/</help-page-url>

 

<configs>
<config name="conf_MaxNum" required="true" form-type="TEXTFIELD">
<label>A: Set Max Number (100 returns 0 - 99)</label>
</config>
<config name="conf_DataIdB" required="true" form-type="SELECT" select-data-type="DECIMAL">
<label>B: Select NUMERIC DATA for Random Number (update)</label>
</config>
</configs>

 

<script><![CDATA[
// Random Number Generator (ver. 20181018)
// (c) 2017, Questetra, Inc. (the MIT License)

//// == Config Retrieving ==
var maxNum = configs.get( "conf_MaxNum" ) - 0;
// convet 'java.lang.String' to 'javascript number'
var dataIdB = configs.get( "conf_DataIdB" ) + "";
// convet 'java.lang.String' to 'javascript string'

//// == Data Retrieving ==
// (none)

//// == Calculating ==
var randNum = Math.floor( Math.random() * maxNum );
// Math.random(): 0.00 to 0.99

//// == Data Updating ==
engine.setDataByNumber( dataIdB, new java.math.BigDecimal( randNum ) );
]]></script>

 

<icon>
iVBORw0KGgoAAAANSUhEUgAAACAAAAAgCAYAAABzenr0AAAEFUlEQVRYR8VXQVIbORT9X2bVXgRO
EDjBhBPE2YFEVcgJEk4w5ASBE4w5QewT4FQhwS7mBIETBE4wnkU3G7p/6mkkl1rT7ZhJqugqqgC1
paf333v/m+mZH37m8+mXAezt7W0z80tc5OHh4XY+ny+ecqn/DUBr/YmIPjDzdnqgiNwR0biqquk6
YJ4MQGv9iojO84PzW4vITdM0766urgCo93kSANA9GAy+EdEmdhSRM6XU7OLiYo6/sa6U+kBEx8z8
gojm1to3vw2A1vobM78SkX+IaOScuxmNRh5MSvfBwcFIRL4GkLt4rw/E2gxorVHvz+mmOLwoCoDa
rOt6N6XbGCN4l5nfRIa6QDwFwPdQ96m1FjRTBmrmnHuH/6cM1HW9s0oHawGA8JgZtad0w1iSeDMI
j5lhw1Fg6otz7vCXNaC1PmFm2O7WWgsXEOgfDod/h4Oumfl1ZsfrqqoOf2bFlQzEkGHmcRDfmXPu
OKe/LMutoiiQB/62YOLy8nK2TiD1AtBaf2ZmX+v4pIIyxkyI6H2y/NFaO17n0NaeXR8Ifv+er1lr
l4Dz+od3fR4Q0cRaO8UvxhiARNlg33nTNNNUlJ0MGGNA818icu+ca0VtDioVaKYBeH+zKzFF5Ng5
d+Zt2sWA1nrGzG+RL03TnIS63kfkaQNCmfCDVCSiRThwWRqEFjPPQo/Au75xEZEvWR8AiO7P7EbL
RNNa5+ut+kcG4Zq6rr0wlVJIzknUDgA553Y6AYSEAwveWriFc85HLp6O+o+bprlOlW+MucHhYC28
v22t3drf3z9USp1jH2hqpQ0TtK1AiTGbl09ETp1zvmS4BDIgyRBc5A6xDW2IyLVzbrQSgNY6xu+S
4vQGHfpZlGW5E8Mn757x/bSZ9QJIrSgiq+rfwiEiR6h1sKDPCrgphBT0AHGDiRmsmvoaovMxy8zw
81aXFRNWugzkZ4SYlomd76qq2i2K4isSNWHilIPgWguZ+pcbpl2u63RQW1XVdlYCH2giAlEfBvrR
tCDwBaeWAvogkqWP0+5njMGQ4TtdDwAvwijA4JiWZSE+ERlHJwDAf4SGPo/BEqNVUk+fjhk7pygb
QiumZhjLzp1zu9ENw+FwLCIAjnREZ8Ve0MYXjpbCANnXwdLBA+FCRH9EH4cDsbEf0RKWOptTNsQc
gQEfu2ihSqmPcXwK2ngd0Ebap3VdnwwGg9io5nVdHyFsgmswsi1LJCKTpmlO47pS6j0zx2j/NwfC
mD0PU2xfeVvqzhjp+sySpZ4Nb8uyHEGs3oYBBMTSmmrCh6fMPMkHSwRSGFRicwHIe4zleBcJmIzn
fqvgAHxpGUentIIING5sbPj2+/j4ePezLxURvFJqs2maRdf4jcthHe92TcdrDaW9dfkNC88O4AcI
zqgZxW8imAAAAABJRU5ErkJggg==
</icon>

</service-task-definition>

Sample A2
<?xml version="1.0" encoding="UTF-8"?><service-task-definition>

<label>Random Number Generator (dynamic)</label>

<summary>A random number that does not exceed the number in the Data item selected config "A" (e.g.: 0 to 99) will be stored in the Data item selected in the config "B"
</summary>


<help-page-url>https://www.questetra.com/tour/m4/m415/addon-random-number-2/</help-page-url>

 

<configs>
<config name="conf_DataIdA" required="true" form-type="SELECT" select-data-type="DECIMAL">
<label>A: Select NUMERIC DATA for Max Number (100 returns 0 - 99)</label>
</config>
<config name="conf_DataIdB" required="true" form-type="SELECT" select-data-type="DECIMAL">
<label>B: Select NUMERIC DATA for Random Number (update)</label>
</config>
</configs>

 

<script><![CDATA[
// Random Number Generator - Dynamic (ver. 20181020)
// (c) 2017, Questetra, Inc. (the MIT License)

//// == Config Retrieving ==
var dataIdA = configs.get( "conf_DataIdA" ) + "";
var dataIdB = configs.get( "conf_DataIdB" ) + "";
// convet 'java.lang.String' to 'javascript string'

//// == Data Retrieving ==
var maxNum = engine.findDataByNumber( dataIdA ) - 0;
// convet 'java.math.BigDecimal' to 'javascript number'

//// == Calculating ==
var randNum = Math.floor( Math.random() * maxNum );
// Math.random(): 0.00 to 0.99

//// == Data Updating ==
engine.setDataByNumber( dataIdB, new java.math.BigDecimal( randNum ) );
]]></script>

 

<icon>
iVBORw0KGgoAAAANSUhEUgAAACAAAAAgCAYAAABzenr0AAAEFUlEQVRYR8VXQVIbORT9X2bVXgRO
EDjBhBPE2YFEVcgJEk4w5ASBE4w5QewT4FQhwS7mBIETBE4wnkU3G7p/6mkkl1rT7ZhJqugqqgC1
paf333v/m+mZH37m8+mXAezt7W0z80tc5OHh4XY+ny+ecqn/DUBr/YmIPjDzdnqgiNwR0biqquk6
YJ4MQGv9iojO84PzW4vITdM0766urgCo93kSANA9GAy+EdEmdhSRM6XU7OLiYo6/sa6U+kBEx8z8
gojm1to3vw2A1vobM78SkX+IaOScuxmNRh5MSvfBwcFIRL4GkLt4rw/E2gxorVHvz+mmOLwoCoDa
rOt6N6XbGCN4l5nfRIa6QDwFwPdQ96m1FjRTBmrmnHuH/6cM1HW9s0oHawGA8JgZtad0w1iSeDMI
j5lhw1Fg6otz7vCXNaC1PmFm2O7WWgsXEOgfDod/h4Oumfl1ZsfrqqoOf2bFlQzEkGHmcRDfmXPu
OKe/LMutoiiQB/62YOLy8nK2TiD1AtBaf2ZmX+v4pIIyxkyI6H2y/NFaO17n0NaeXR8Ifv+er1lr
l4Dz+od3fR4Q0cRaO8UvxhiARNlg33nTNNNUlJ0MGGNA818icu+ca0VtDioVaKYBeH+zKzFF5Ng5
d+Zt2sWA1nrGzG+RL03TnIS63kfkaQNCmfCDVCSiRThwWRqEFjPPQo/Au75xEZEvWR8AiO7P7EbL
RNNa5+ut+kcG4Zq6rr0wlVJIzknUDgA553Y6AYSEAwveWriFc85HLp6O+o+bprlOlW+MucHhYC28
v22t3drf3z9USp1jH2hqpQ0TtK1AiTGbl09ETp1zvmS4BDIgyRBc5A6xDW2IyLVzbrQSgNY6xu+S
4vQGHfpZlGW5E8Mn757x/bSZ9QJIrSgiq+rfwiEiR6h1sKDPCrgphBT0AHGDiRmsmvoaovMxy8zw
81aXFRNWugzkZ4SYlomd76qq2i2K4isSNWHilIPgWguZ+pcbpl2u63RQW1XVdlYCH2giAlEfBvrR
tCDwBaeWAvogkqWP0+5njMGQ4TtdDwAvwijA4JiWZSE+ERlHJwDAf4SGPo/BEqNVUk+fjhk7pygb
QiumZhjLzp1zu9ENw+FwLCIAjnREZ8Ve0MYXjpbCANnXwdLBA+FCRH9EH4cDsbEf0RKWOptTNsQc
gQEfu2ihSqmPcXwK2ngd0Ebap3VdnwwGg9io5nVdHyFsgmswsi1LJCKTpmlO47pS6j0zx2j/NwfC
mD0PU2xfeVvqzhjp+sySpZ4Nb8uyHEGs3oYBBMTSmmrCh6fMPMkHSwRSGFRicwHIe4zleBcJmIzn
fqvgAHxpGUentIIING5sbPj2+/j4ePezLxURvFJqs2maRdf4jcthHe92TcdrDaW9dfkNC88O4AcI
zqgZxW8imAAAAABJRU5ErkJggg==
</icon>

</service-task-definition>

---
X. Workflow-Sample