When you want to promptly recognize the occurrence of processing that you must correspond or the arrival of the issue which you are one of the candidates for undertaking it, the detection tools are helpful. For example, You can always recognize the "number of Issues" that you should handle by installing [You've Got Task] which is one of Chrome Extensions.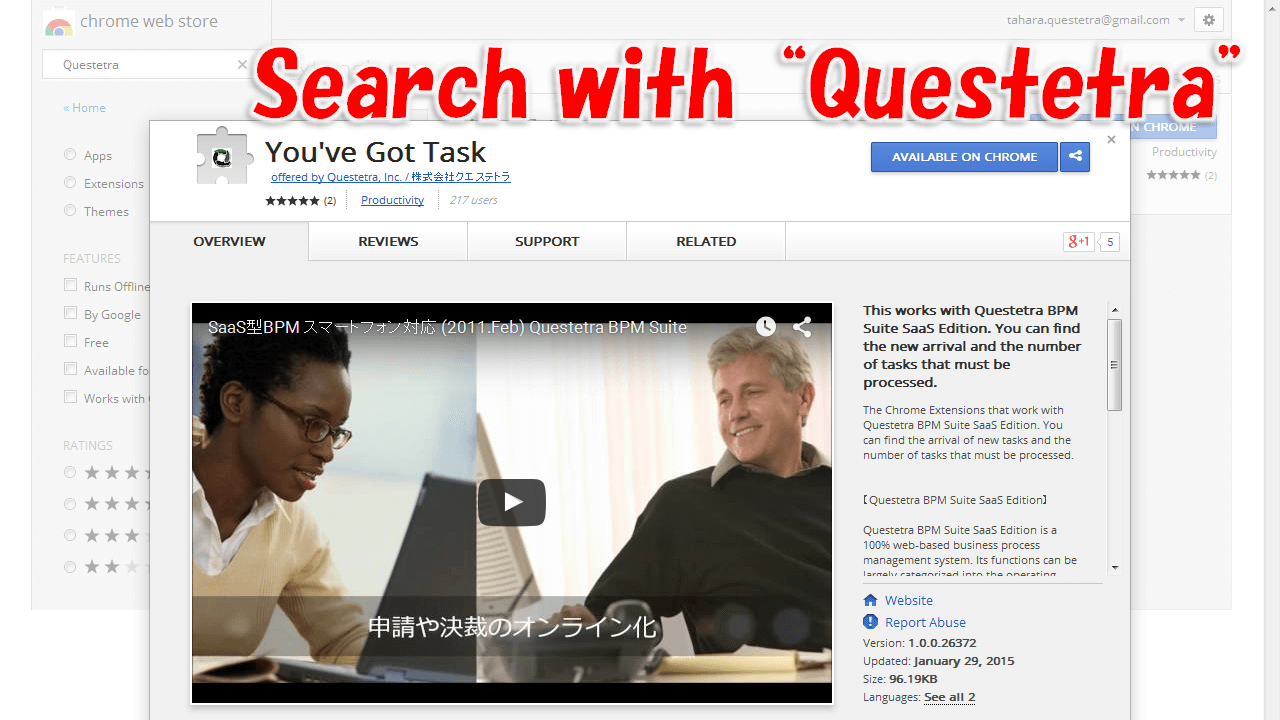 1. Usage Example of 'Detection Tool'
a. Immediate Response (externally)

Responding quickly to the reception of inquiry (KPI: Average Response Time)

b. Immediate Response (internally: Determination)

Preventing approvals from retention (Acceleration to Management Decision)

c. Immediate Response (internally: Trouble)

Reacting instantly to failure notification from the sensor
2. Detecting by Browser Extension Apps or Mobile Apps
1. Installing Published Apps

Installing apps which are utilizing Developer APIs
You will be able to detect the arrival of the Issues even when you are not logged in Questetra on your browser
You can also develop the original apps specialized to specific business process such as "Failure Dealing" or "Request for Decision"
The applications must have been registered by the System Administrator (Connection applications that use OAuth)
3. Features of [You've Got Task], a Chrome Extension
1. Indicating the Number of Issues

Always displaying the number of Issues in [My Task] (or [Offered])

2. Indicating the List of Issues

"Titles" of the Issues will be listed by clicking on the icon

3. Directly Move to the Input Screen

You can move to the Input screen by clicking on a title on the list

4. Starting New Issue

You can Start new Issues from the list of Operations
You can install for Free in Chrome; ['Search the store'] < [Get more extensions[ < [Extensions] < [Tools]. Chrome Web store
Setting example of[Destination Questetra BPM Suite URL]:https://online-demo-en.questetra.net
You must be logged in (or enabled Auto Login), to directly move to the detail of the Issue.