When it comes to the maintenance of Allocations in the Business Process or System privileges, it will take a big effort to perform it for each "User unit". In Questetra, you can configure them by "Group Unit" using the Grouping feature called [Organization] or [Role]. [Organization] is represented as a Tree structure, such as "Company - General Affairs Department - Human Resources Department", so you can use its hierarchical structure to manage the User affiliations.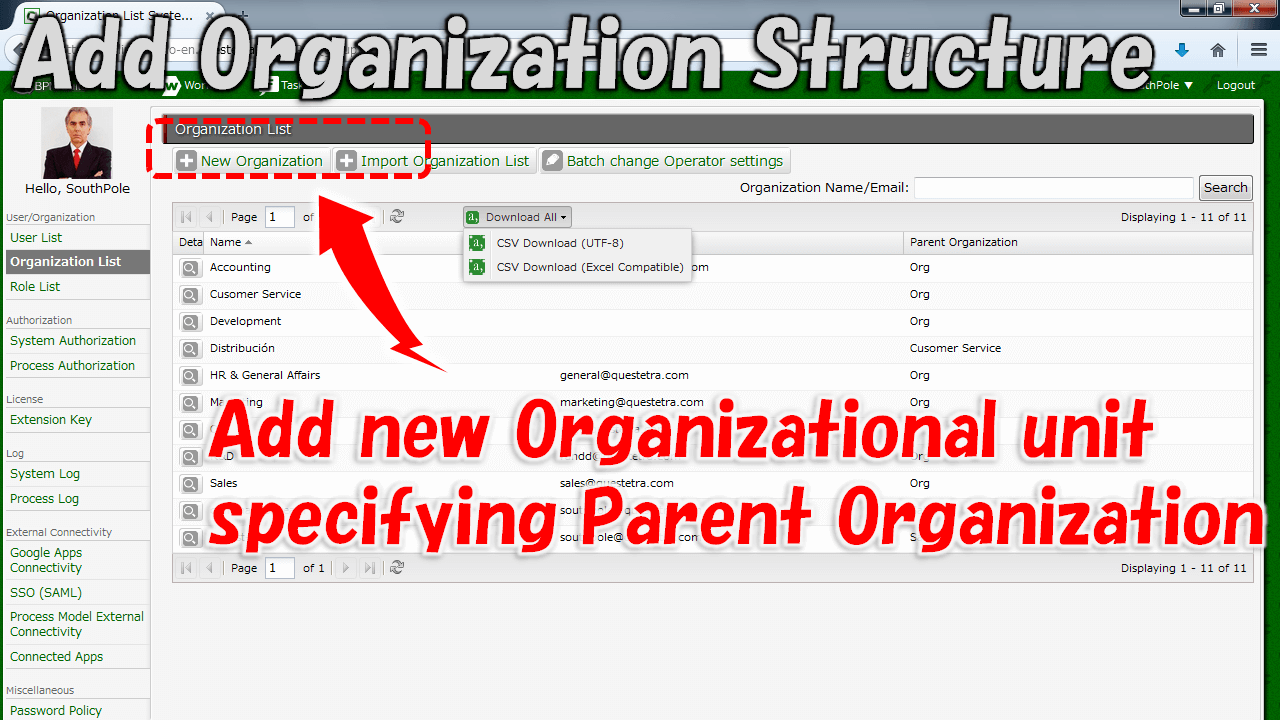 1. Overviews about the Advantages of Grouping the Users in Tree Structure
a. Grant System Privilege

Grant, e.g. Administrator Privileges to the Users who belong to 'IT Department'.

b. Grant Local Privilege

Grant, e.g. [Data Viewer Authorization] to the Users who belong 'Sales Headquarters' and its sub-organization.

c. Set Allocation Rule

Define Business Rules, e.g. request reviewing to anyone in the Parent Organization.
Granted privileges and authorizations will be revoked at the time the User is removed from the [Organization].
Setting by User unit is also available. (You do not have to define all the groups into Organization.)
2. Add Organizational Unit Tree Structure
1. Name the Root Organization

Name the Organization which to contain all the Users who log in to Questetra.

2. Add Suborganizational Units

Make a grouping for all the Users to be assigned, then add as [Organization].
R3030: Properties of Organization
R3031: Samples of Organizational Tree
R3032: Formats for CSV Bulk Addition (Organization)
In case using within in-house members, name the root organization, e.g. "Company" or "example.com".
In case using among multiple companies, set the representation, e.g. "X Project" or "All Traders".
e.g. Root Organization:"00. Company", suborganization:"10. Officers", "20. Management Dept.", "30. Sales Dept."
Subdivide to the Organizational unit that is used in the definition of Allocation rules or setting of Data Viewing Authorization.
You can also add in batch with CSV data.
3. Configure Properties of Each Organization
1. Set Leaders

This setting enables to define Business Processes, e.g. "Approval by the belonging Organization Leader".

2. Set Organizational Address

This setting enables to define Business Processes, e.g. "Auto-sending Emails to all the members of an Organization".
You can set more than one User as [Leaders]. (e.g. Set both Department Manager and Deputy Department Manager as Leaders.)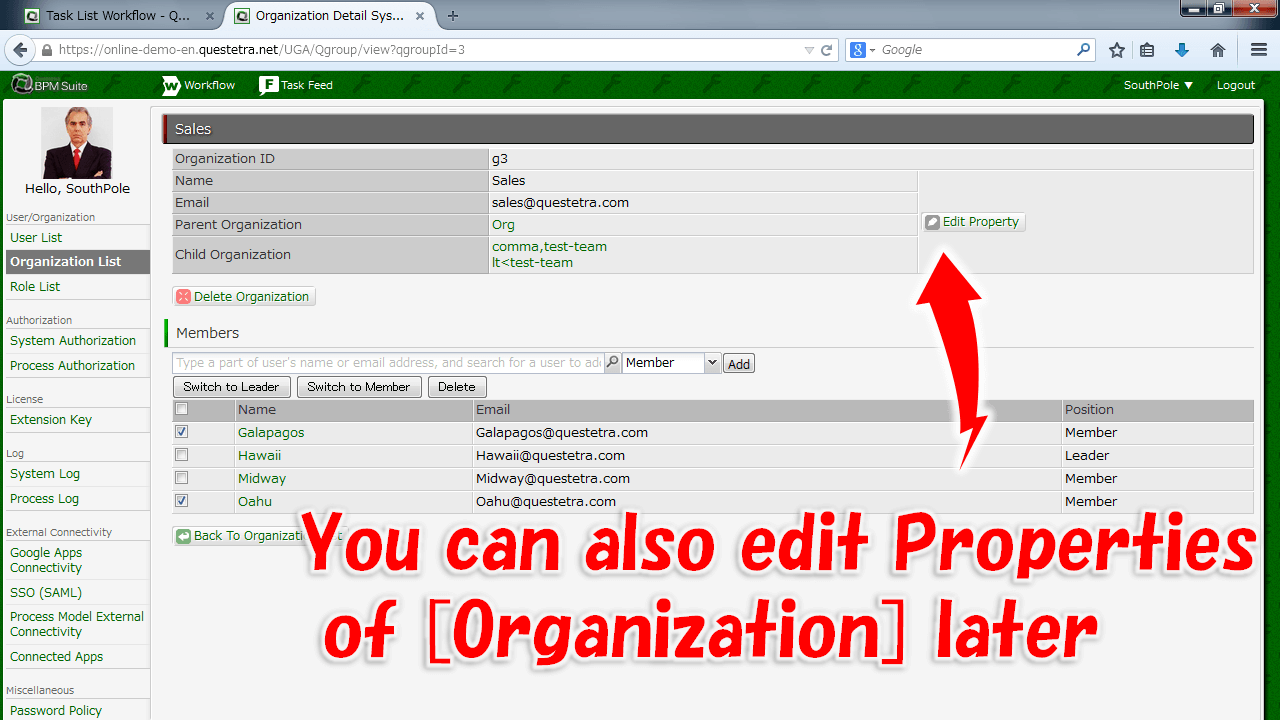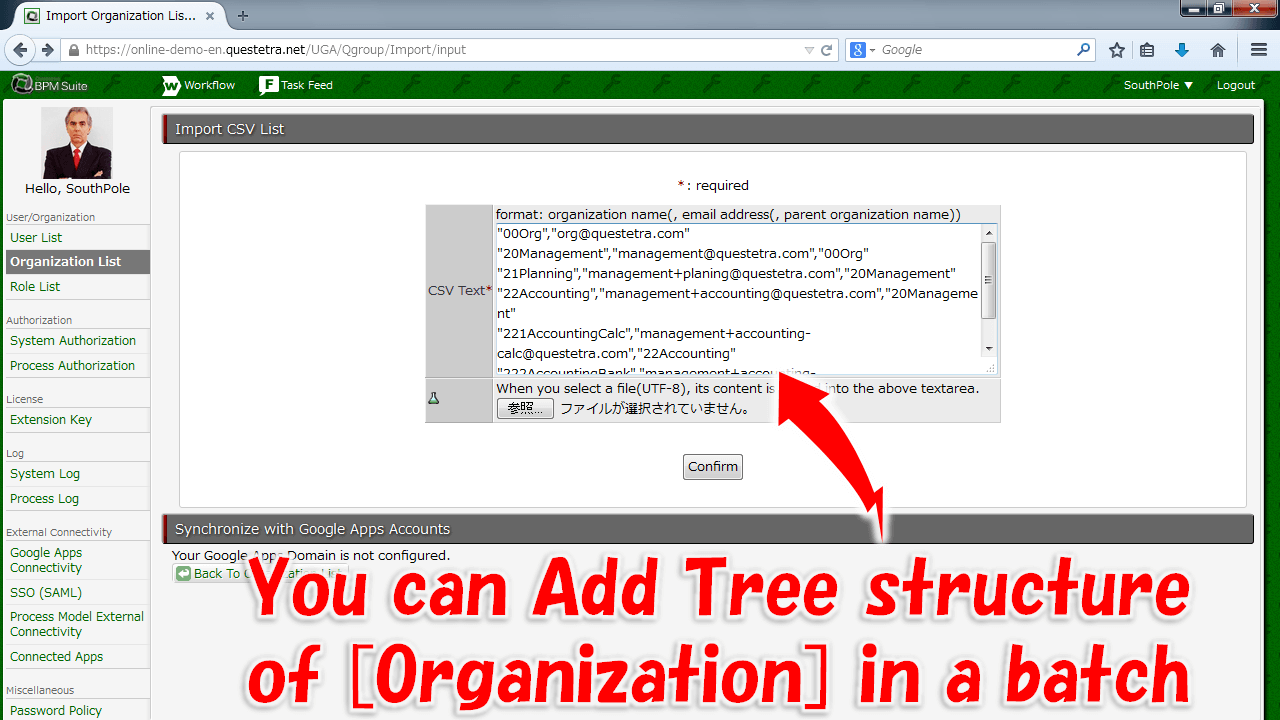 ---
X. Workflow-Sample