The system records the history of login success, login failure, or of forced logout by double login, etc. at the contract URL. In addition, the history of detailed time of progression of Issues that flowed on each App are also recorded. A User cannot Delete or Modify the Log record, even with the System privilege.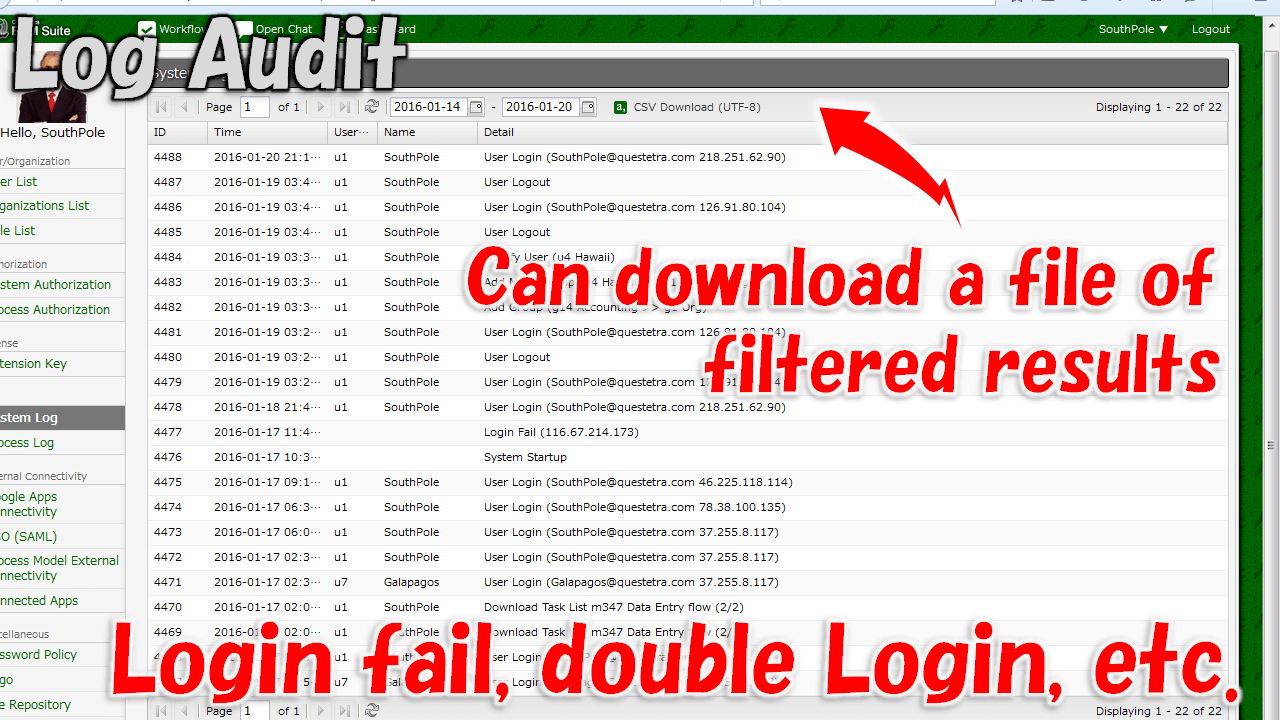 1. Overviews about Requirements of Log Data for Audit
a. Completeness

With no Omission, no Overlap (In the system, Users cannot manipulate data to, for example, do partial deletions, etc.)

b. Accuracy

Accurate and no mistakes (The Possibility of Transcription error and Human error is eliminated as much as possible)
2. Overviews about Type of Log Data for Audit in Questetra
a. System Log

A Audit Log which records when and who login Questetra

b. Process Log

A Audit Log which records when each of Issue reach each step and who undertake them
System Log and Process Log are successively auto-added, and even privileged Users cannot Delete or Edit them
To browse System Log and Process Log (Audit Log), [System Administrator Authorization] is required
Authentication and Federation are added to System Log (including Basic Authentication Communications)
Information of e.g. Reaching each step, Allocation, Edition or Delition of data, etc., to Process Log
Currently, there is no logging function about Business Process definition (App) that cannot be deleted
3. Check Audit Log
a. Check System Log

Filtering and Listing data by the Log date

b. Check Process Log

Filtering and Listing by Log date or Process ID of data
When you want to check the progress of an individual Issue on a daily business, you can do it on the detail screen of each Issue (M105)
You can export a Log List to a CSV file(UTF-8) (Up to 10000 items)
Currently, there is no function of Log Detection such as auto warning by pattern analysis, etc.