There are many cases where the Business Process cannot be unified (standardized) despite leading to the same final deliverable, such as a "personnel evaluation process in each division" or "invoicing process in each subsidiary". By operating a downstream Process which aggregates the final deliverable data you can manage this information centrally. (Message Catch Event API)
1. Overview of Cases where Data Aggregation is Utilised
a. Liberalisation of Upstream Flow

By not deliberately consolidating you will be able to entrust improvement activities to each department.

b. Control of Data Viewing Authority

It is also useful when you want to view only the processing data of your own department.
Liberalisation of the application route, and granting Data Viewing Privileges could lead to increased "sector autonomy"
2. Design Downstream Process (Receiver) and Operate it
1. Publish the Starting Format

Publish the format (API) for automatic Starting to the related departments.
The automatic Starting parameters (Starting Format) will be generated by releasing the Process Model after editing and saving
Inform the designer of the calling side App of the Business App ID and Parameter names 
The designer of the calling side App will be able to confirm the parameters in the Send Parameter Settings in the property screen of the [Throwing Message intermediate Event (HTTP)]
Users who are granted [System Administrator Privilege] are also able to confirm the parameters in [App External Connectivity]
R3010: List of Authorization of System Privileges
R3020: Privilege List of App Authorization
3. Design the Connection Source App (Caller)
a. [Access URL] for Automatic Starting of the Connection Destination

https://karasumi-shijo-000.questetra.net/System/Event/MessageStart/123/0/start

b. Business Process ID of the Connection Destination

Specify the App ID (processModelInfoId) of the connection destination

c. Start Event ID of the Connection Destination

Specify the starting point (nodeNumber) of the connection destination App

d. The Security Key of the Connection Destination

Specify the security key of the connection destination App

e. Business Data to be Sent

Specify "Receiving Parameter name" of the connection destination if necessary, and specify the value to be sent
It is possible to use variables such as "${var[applicationRoot]} instead of the [Access URL] as long as it is on the same Workflow platform
R2182: Error Notification of HTTP Start
R2210: Naming Convention for Data Receiving Parameter
Config. Items: Message Start Event (HTTP)
Config. Items: Throwing Message Intermediate Event (HTTP)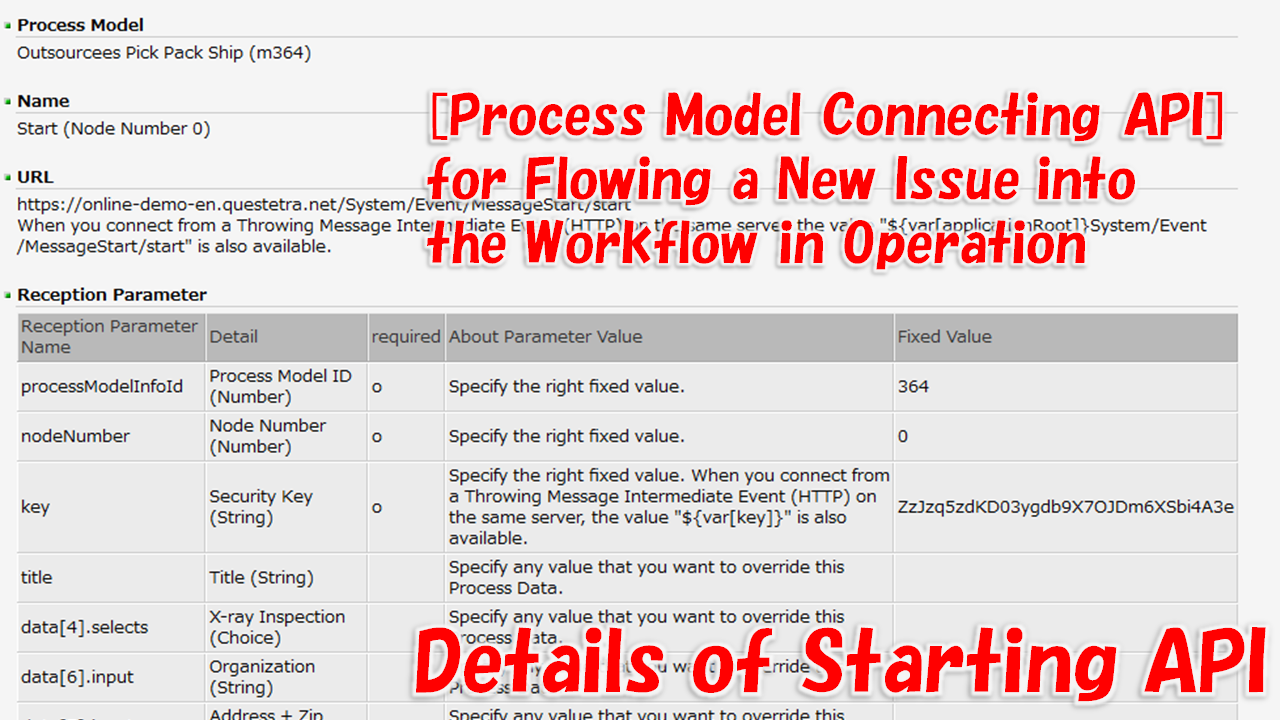 ---