By placing [Catching Message Intermediate Event (HTTP)], a Stand-by event, in the middle of the flow diagram, you can let each Issue stays on the Step standing by for HTTP requests. The external program sends Request on specifying the Issue ID and Id on the Step (event). The external program makes a request specifying the issue ID which is standing by and the ID of the point in the issue. For example, you can build a system such as calling the "Translation flow" from the "Web Production flow" and waiting for the translation result.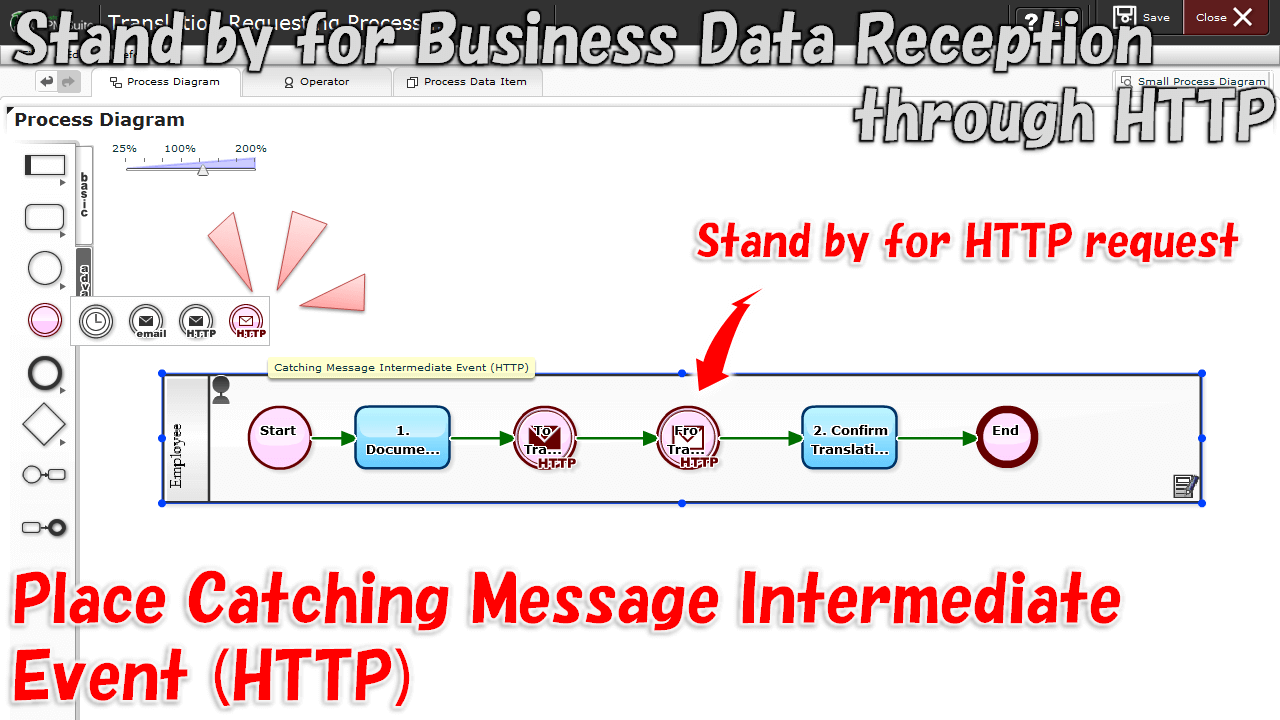 1. Usage Example of "HTTP Standby"
a. Waiting for Completion of Outsourced Work

Throwing a translation process in the middle to the "Translation flow", and waiting for the translation result.

b. Waiting system Communication with External

Throwing a Sales Aggregation Request to the Core-system and waiting for the Total Result.

c. Waiting in Double-stage Communication

Waiting for recovery information while carrying out the human's corresponding upon receiving failure information from the detection system.
2. Setting HTTP Standby Event
1. Receiving Data Items

Set the Data Viewing level (read-write permission) to [Editable (Read/write)].
After releasing, you can see the parameters of the standby URL (request URL) or "Name" of the parameter, etc..
As a data receiving parameter, you can specify the [Field name] set in the data item
3. Preparing Mechanism of Data Transmission (External Setting)
1. Request URI

Specify App ID and Event Node number using Path Parameter

2. POST body parameter

"Specify "Issue ID", "API key" and "business data that you want to update with"
$ curl https://sample.questetra.net/System/Event/IntermediateMessage/
123
/
0
/receive \ -d "processInstanceId=
456
" \ -d "key=
XYZXYZ
" \ -d "data[0].input=
foo
" \ --data-urlencode "data[1].input=
a&b
"
Request parameters can be either of GET / POST (POST is recommended, GET is partially prohibited)
File data are transmitted in POST multipart
System variable of "${var[applicationRoot]}" is available if it is the communication on the same Workflow platform
The value of the API key can be arbitrarily set
It is possible to filtering source IP address for each start URL (M312)
If the parameter value is sent as an empty string, it behaves to clear the value
If no parameters are sent, the input value is maintained as it is
R2184: Error Response for HTTP Stand-by
R2210: Naming Convention for Data Receiving Parameter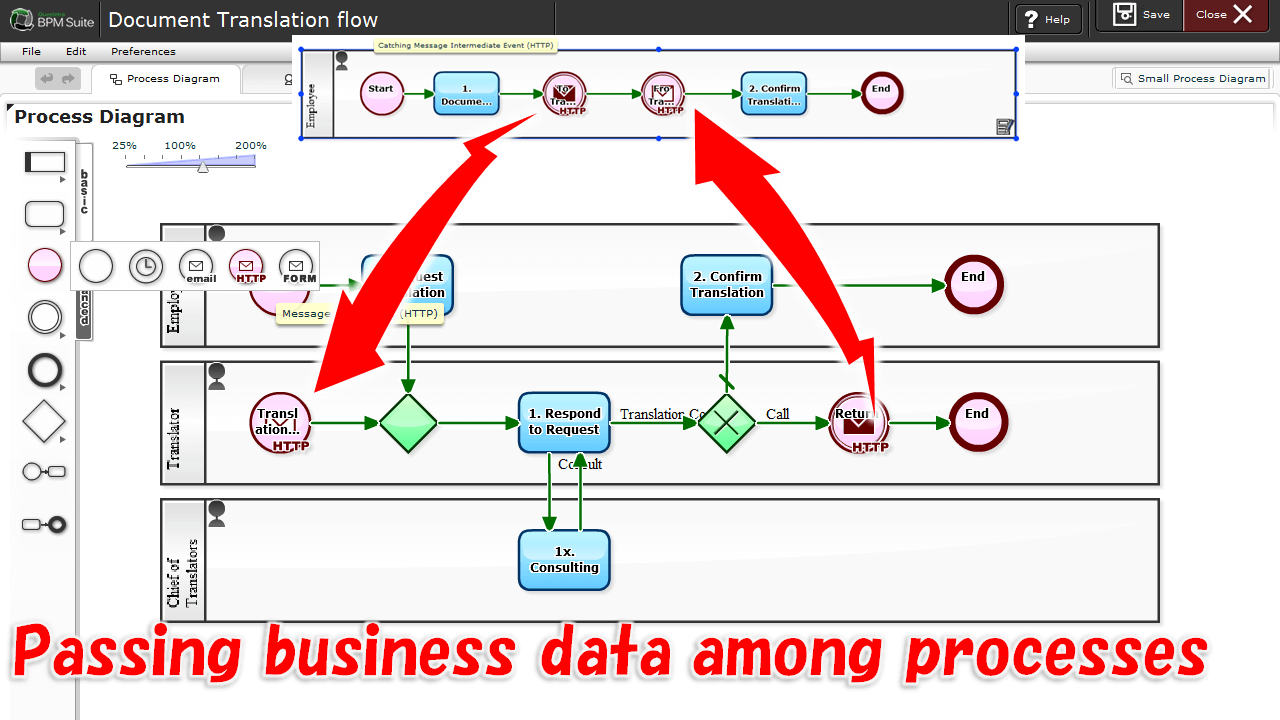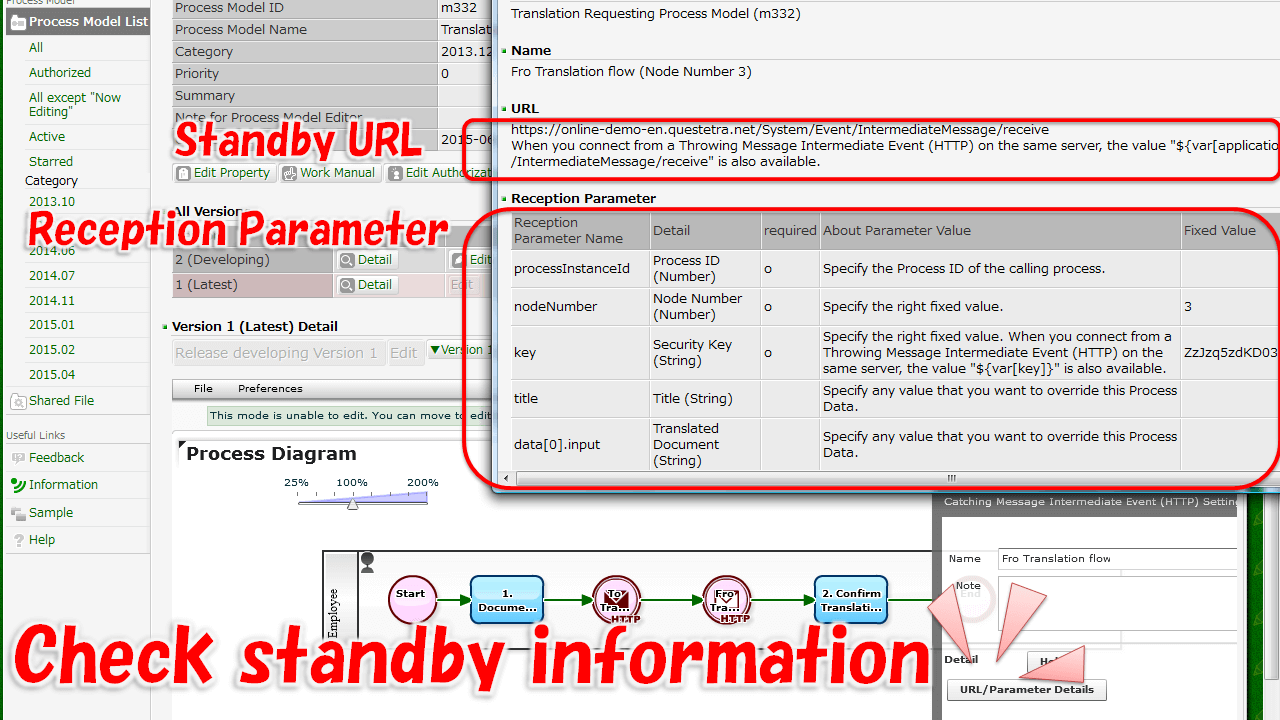 ---
X. Workflow-Sample