When it comes to maintenance of the Allocations in the Business Process or System privileges, it will take big labor if it is performed by 'User unit'. In Questetra, you can configure them "by the Group Unit" using Grouping feature called [Organization] or [Role]. [Role] enables to group Users according to their own attributes such as "Group of Department Managers" or "Qualified personnel".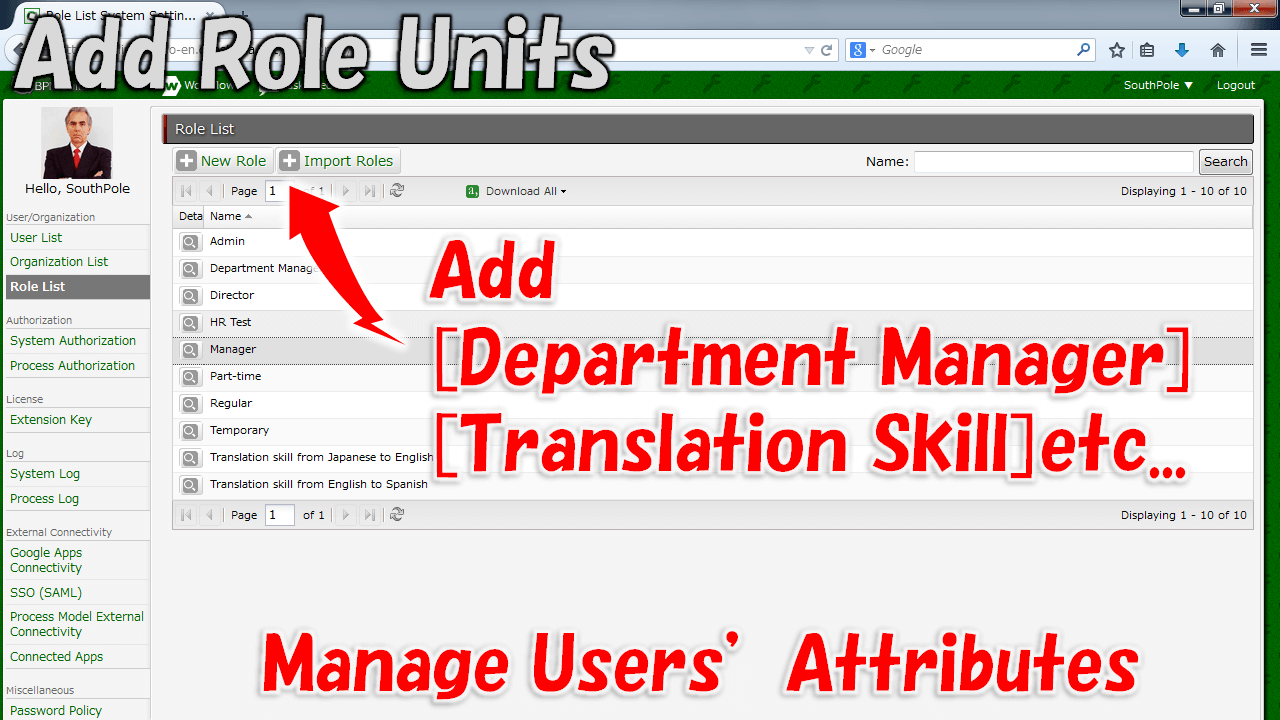 1. Overviews about the Advantages of Grouping the Users by the Same Attributes
a. Allocation Rule Settings (Role)

You can define Process Model as all Users who have "Translation Skill" to be the candidates

b. Allocation Rule Settings (Organization and Role)

Allocate to one User who is a member of the suborganization of "Sales Department" and has "Translation Skill"

c. Allocation Rule Settings (Dynamically Organizational and Role)

Allocate to one User who is a member of the upper-organization of your organization and has "Department Manager" role
Define [Role] for efficiency of Allocation Rule definition (You cannot use [Role] for granting System Privilege)
[Role] enables to manage cross-organizational attributes efficiently such as "Department Manager" or "Japanese - English Translation Skill"
When [Organization] Tree Structure is sufficient to manage Assignment Rule Definition in each Tasks, [Role] is unnecessary to register
2. Considerations on Effectiveness of Role for Business Process Definition (Allocation Rule Definition)
a. Represent Authorization by the Position

Department Manager Role with "Authorization to approve expense up to one million JPY" for the sake of Segregation of Duties

b. Represent Authorization by Being in Charge

e.g. "Person in charge of locking a store", "Graduates of Kyoto Univ. as Recruiter " etc...

c. Represent Authorization by the Skill

e.g."Fire Safety Supervisor", "Person with qualification of Information Security" etc...

d. Represent Teams that are not included in Organization Tree Structure

e.g."Planner Team of Company Outing", "Softball Team" etc...

e. Represent Other Effective Users Group for Business Rule Definition

e.g."New Employee in Training", "Short time workers" etc...
In Business Process Definition, you can also define Models with combining multiple Roles
3. Add Roles
1. Add Roles Needed

Add names or others of Roles in New Addition screen.
R3040: Formats for CSV Bulk Addition (Role) 
You can Add in bulk from CSV data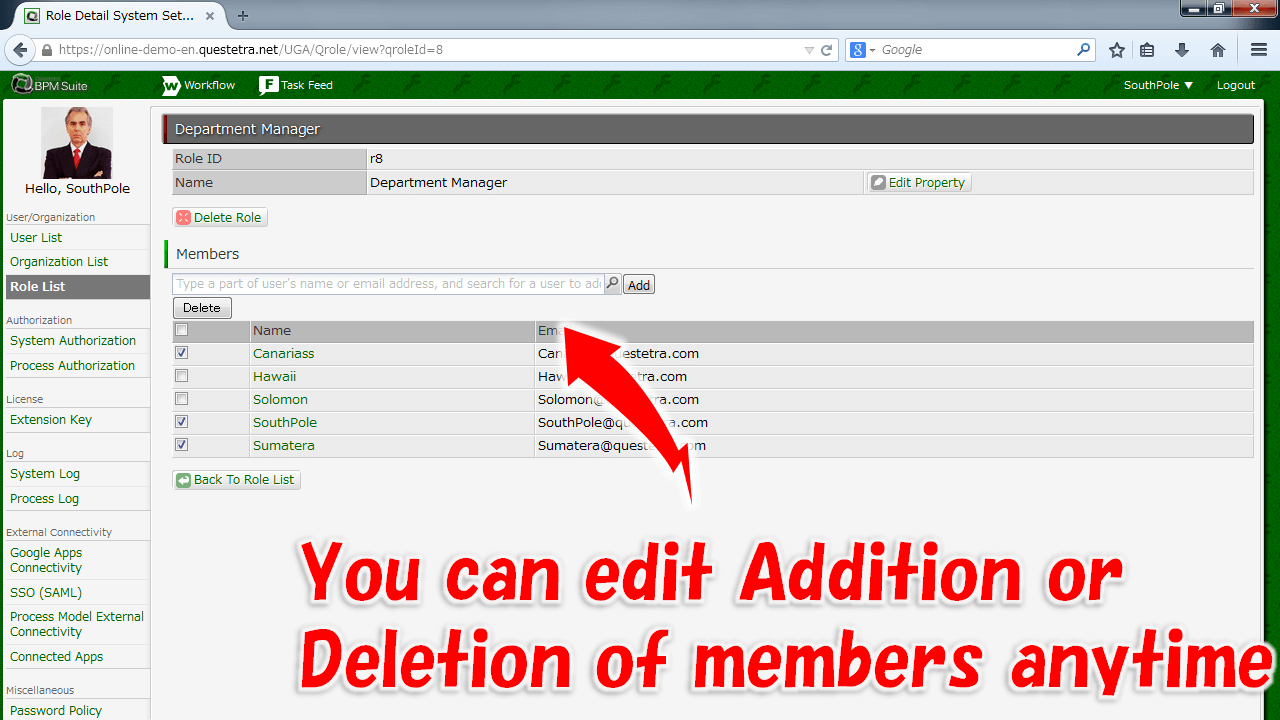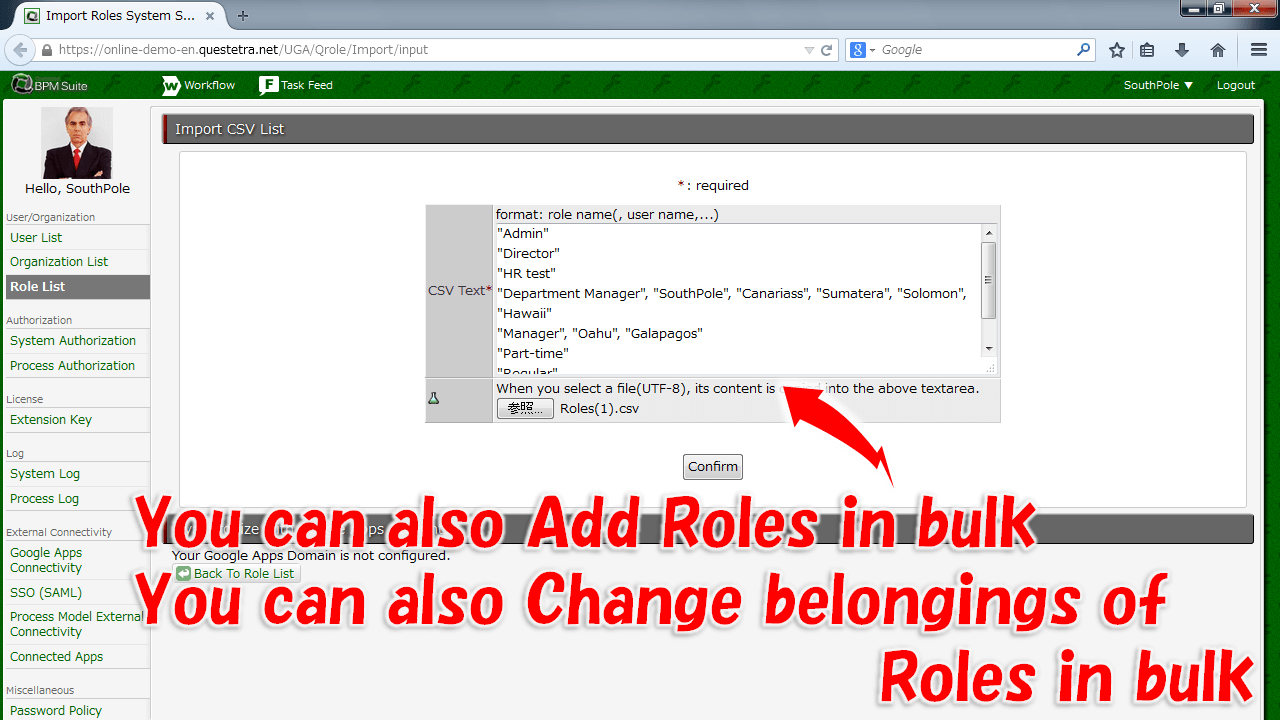 ---
X. Workflow-Sample