[Open Chat], the Enterprise Social Networking, is a tool in which you can actively communicate in real-time, similar to Facebook or Twitter. In Questetra you can easily send messages associated with Business data. For example, If you post that there is a problem getting a response from the "Inquiry Response flow", you may get a variety of advice beyond the boundaries of the department.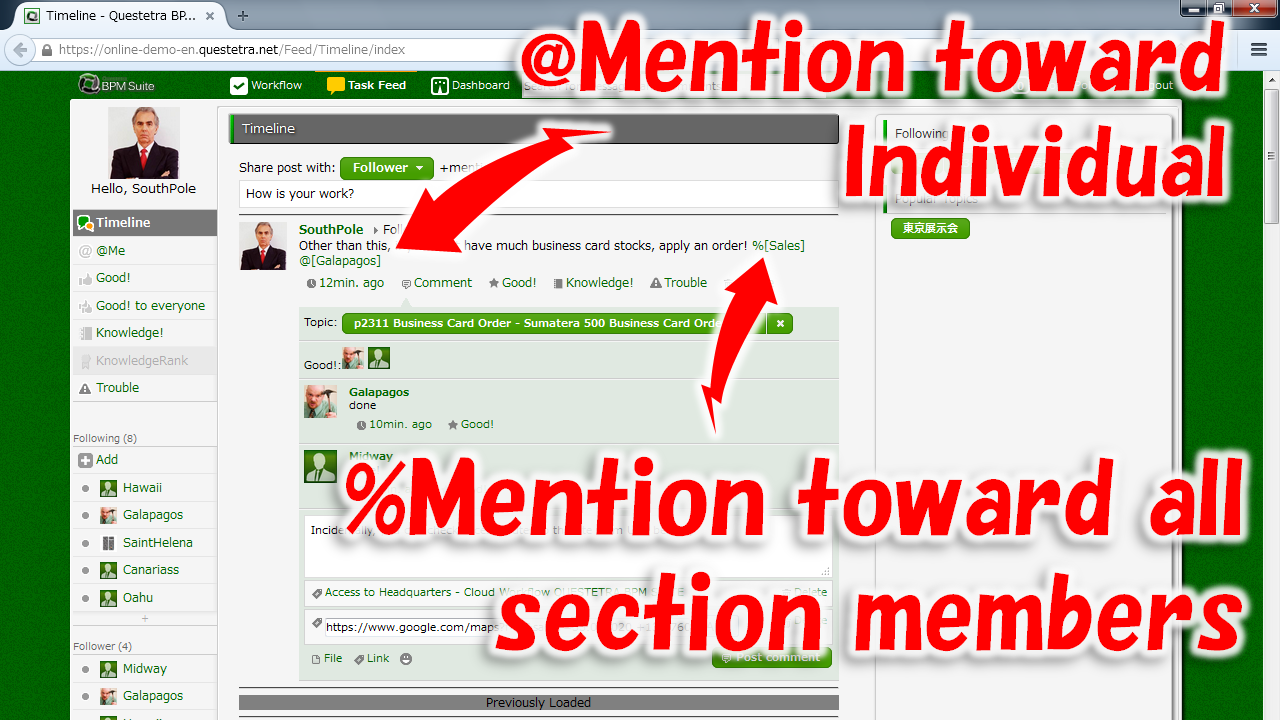 1. Posting your Tweets
a. Tweet to Followers

Show on the timeline of the users who follow you (default)

b. Tweet to your department

Display on the timeline of everyone in the department
Posting to a department will also be displayed on the timeline of department members who are not following you
Posts sent to a department will not be displayed on the timeline of users who are not members in that department, even if they follow you
By not specifying certain followers or departments (i.e. Specifying none), you can also display your posts on your timeline only
2. Posting toward a Particular User (Mention)
x. Tweeting to an Individual

Post your tweet to a particular person by adding "@user name"

y. Tweeting to a Department

Post your tweet to a particular department by adding "%department name"
[Mention] is a way to direct information to a particular person
Suggestions will be displayed if you enter part of a user name, organization name or part of the e-mail address
Mentioned posts also appear on the timeline of users added to a mention
Users added to a mention will receive a notification by email, etc. (depending on the personal setting M108)

If the number of target Users exceeds 100, the notification email will not be sent
Users who have disabled "Someone posted a comment on my message" in the notification settings will be excluded
If the notification email is not sent, a message will be displayed on the screen upon posting

By specifying Unspecified, it is also possible to display only on the Timeline of the mention partner and yourself
3. Linking Business Data
1. Linking by Issue ID

If you want your post to be associated with business data, then add Issue ID (Process ID) in the format "#p1234"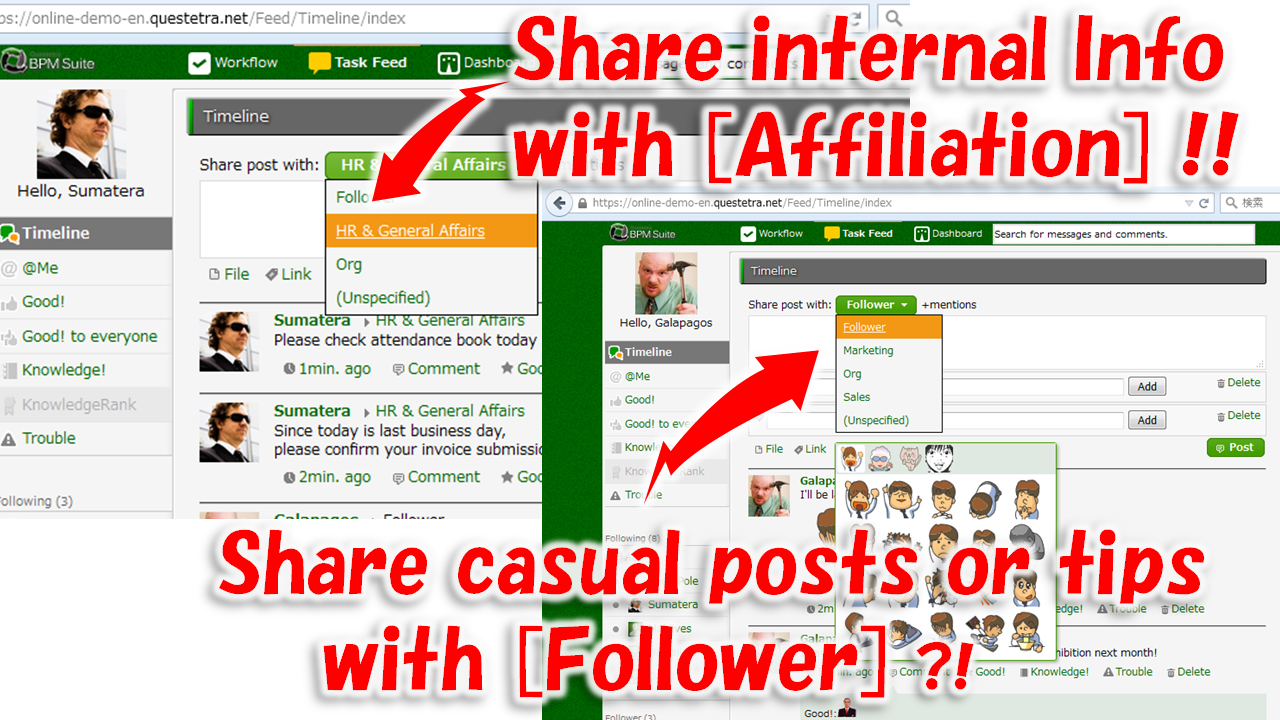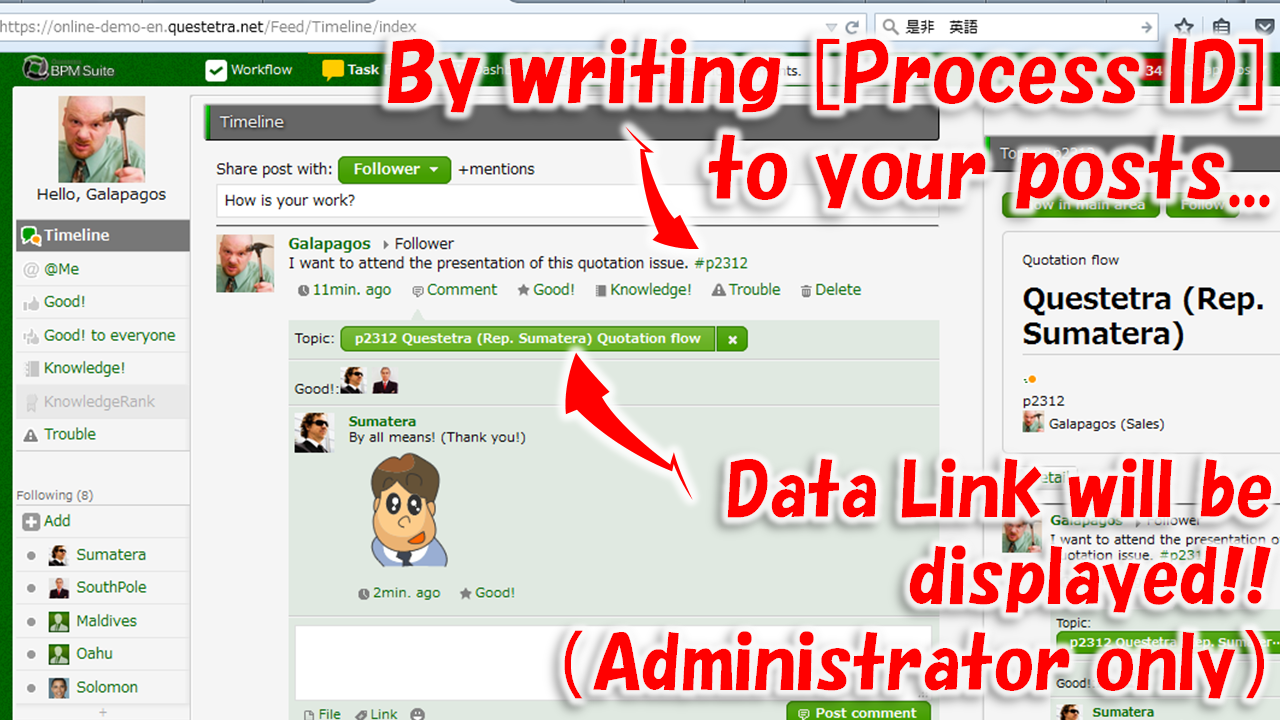 ---
Z. More Info